The ladies of Spring Hill Baptist Church open our arms and hearts to you! We were created to worship God and share His love with everyone that we encounter. Let us join together in fellowship as we dive into God's word and strive to do His work and follow Him.
We have two ladies' Bible studies that will be running through the fall. Read on below!
We hope that you decide to join us for this special fellowship! Bring a friend!
Entrusted
by Beth More
Leader: Kellie Steadman
Join us as we learn of the gifts that God has entrusted us with, grow closer as sisters in Christ, and worship our heavenly Father. We will meet from 7:00-8:30 p.m. on the following dates:
August 28
September 11 & 15
October 9 & 23
November 13
We were never meant to take this journey of faith alone or in secret. God has entrusted us with the great and mighty gift of the gospel, something too precious and life-giving to keep to ourselves.
In this 6-session Bible study, Beth will encourage you to guard what God has entrusted to you, further His kingdom by sharing Christ with others, and pour into future generations just as Paul once mentored Timothy. Because in this journey of joy and hardship, we need each other to stay the course and live lives of faithfulness.
Description from lifeway.com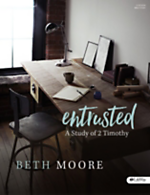 Sarah Frazer will host a bible study at her home every other Thursday night from 7:00-8:30 p.m.
Details for this Bible study are pending. Check back for details!